WEST BLOOMFIELD FENCE COMPANY
Deep down inside each one of us, we know that each and every company is a little bit different from the next. Even McDonald's, which strives to create uniformity between its franchises, will provide a slightly different experience from one location to the next. As can be expected, this type of variance is also seen in the quality of work done by one West Bloomfield fence company when compared with another.
Since we all know this basic truth the question then arises as to what should be done in order to separate the wheat from the chaff in order to choose the right West Bloomfield fence company. Ideally, we'd all like to be working with the one contractor in town that will install a great looking fence made from high-quality materials in a timely manner all the while presenting a level of professionalism which keeps one's neighbors from being offended. My guess is that you're here reading this article because these are the very type of things that you're concerned about and are doing your homework so that, to put it frankly, you don't get caught with your pants down. If you can identify with that statement, read these Top-3 tips for getting the fence of your dreams installed properly the first time.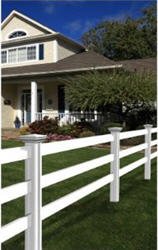 An Elegant Vinyl Fence Serves as a Great Frame for Your Home.
Interview Multiple Companies – I'll be the first one to say that I'm hoping that after you read this article you'll look at the top of this page, pick up the phone, and call my office to set up and appointment for my team to give you an estimate. That being said, I do recommend that you call more than one West Bloomfield fence company for quotes. Two is good – three would be better. It's true that you can get great quality work done at a great price since that's the level of service I push my team to bring to each and every job site. However, I've heard more stories of things going wrong when a homeowner failed to get multiple quotes than tales of everything going peachy, so it's usually a best practice to plan on getting a few quotes.
As for References – my company, Veterans Fence, was started almost 50 years ago by my father. That's a long time and that's a lot of fencing to put into the ground. I make it a point to provide every customer with references or testimonials on demand. There is no reason why a company that has been in business for any decent length of time (5+ years) should not be able to provide high-quality references with phone numbers for you to call. If the company is too new to be able to provide references, don't do business with them. Someone will hire them, I assure you of that, but a young company is still learning the ins-and-outs of bringing a high level of service to job site you don't need to be their guinea pig that provides them with the "failure experiences" they need to grow from being a new company to an established one. An older West Bloomfield fence company that is unable or unwilling to provide references should be eliminated from consideration because it comes across as shady. Installing fence is not like providing security for CIA headquarters and there's no need to secretive about what we do unless there are a lot of skeletons in the closest that would be best left hidden from sight.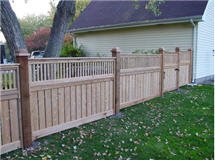 Cedar? Vinyl? Wrought Iron? Try to agree on these details before someone shows up at your home.
Do Some Planning in Advance – while it is the job of the West Bloomfield fence company sales rep who visits your property to give you a quote on installing your new fence to provide materials and guidance on what type of fence to get, the initial meeting is not the time discover that one spouse is interested in a white vinyl setup while the other has been imagining the grounds wrapped in an elegant cedar privacy configuration. Have at least a basic chat a couple of days before with all parties who have a say in what type of fence will be eventually decided upon sitting in attendance. I've seen verbal disputes erupt between spouses that led me to believe that the color choice of the fence was going to be the final straw that pushed the couple into divorce court. I can't speak for everyone in the fencing business, but I know more than one owner (myself included) who could be considered "relationally challenged" to one degree or another. We're holding down things on the home-front with our teeth while at the same time guiding a ship that is known as "business" through rough economic waters and trying to help others improve their communication skills in the environment of selecting the right fence is not an activity we are qualified to perform. Getting on the same page where expectations are concerned a few days in advance can pretty much preclude this from happening.
These three suggestions will go a long way in helping you pick out the best West Bloomfield fence company out of the crowd of choices all vying for your business. Again, I'd like to throw my hat in the ring and say that I'm itching for a chance to earn your business as well. Give me a call at 313-381-8530 and I'll come out to your home, provide you with the rest of the information you need to make the best decision in regards to selecting your new fence, and will provide you with the best possible price bar none.