Are you looking to get a new fence installed in the near future? Are you here because you're looking for information that will help you figure out exactly what type of fence you should buy and what Ypsilanti fence company you should hire to do the work? Then feel free to read on because we'll cover all of those questions below.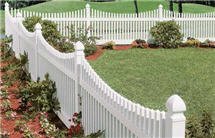 A good fence company gets the job done right the first time.
First of all, you need to determine for yourself early on what exactly you want your new fence to accomplish. If you just want something that will keep your kids safe and stop your pets from running free through the neighborhood, a chain link fence might be great. If, however, you want your fence to provide privacy from the neighbors for your weekly summer barbecues, or you want your fence to serve as a decorative frame for your home, you'll likely want to upgrade to wood or vinyl construction fence. Most Ypsilanti fence companies are able to install any of the major fencing types but not all will tell you why you should go with one over another so here are the benefits of each type of fencing in order:
Chain Link Fencing – this fencing works well if you need a fence in a hurry. This is still the #1 type of fencing installed in America so most Ypsilanti fence companies have a bunch of it in stock so there's no wait for materials to be produced. Also, there are no custom fit requirements such as you often have with vinyl and treated wood, so the only limitation on how quickly a chain link fence can be installed is how many jobs are ahead of you in the queue. Chain-link fence is still the most inexpensive fencing option as well, so for those who are working within a tight budget, this may be the best choice for that reason alone.
Wood Fencing – most wood fencing comes in the form of tall privacy fencing. Some are semi-privacy setups where the full-plank portion only goes up to eye level and the rest of the fence if finished off to the top with some type of decorative lattice. Wood fencing comes in either pressure-treated or true-cedar varieties. Since the pressure-treated pine isn't known to last as long and the chemicals used to keep it from weathering gives it a slightly "greenish" color, most people choose to go with Cedar instead. While cedar is more expensive, it is the usually the best option for those looking to get a fine-quality wood fence installed by their Ypsilanti fence company. It happens to be a bit cheaper than vinyl as well, so that's another added benefit.
Vinyl Fencing – since its introduction to market as a fencing application years ago, the vinyl fencing setup has enjoyed increasing popularity year-over-year. Since it is a synthetic material it never rots, ever. Newer advances in pigment synthesis mean that the colors don't fade or yellow anymore as they did in the first few years when vinyl was made available. Vinyl fencing never needs to be painted, comes in a variety of colors, and a number of styles. There are a few downsides with vinyl fencing though. First of all is the fact that, with the exception of exotic custom fencing such as rod iron, it is the most expensive of the three main types of fence. Another factor is that there is usually a wait time for your fence to be produced by the manufacturer. This means that there can be some initial delay that your local Ypsilanti fence company has no control over. Nothing a little patience can't overcome, but it's something that needs to be kept in mind when buying a vinyl fence. Finally, vinyl fencing can be damaged by grass trimmers. The gas-powered trimmer with its sharp-edged polymer string can cut through the bottom of a vinyl privacy fence like butter. If you maintain your lawn yourself, just be aware of this and it won't be an issue. If you hire someone to do it for you, just make sure they are aware that they should not make contact with the fence itself with their tools of herbal destruction.
Now that you know what the main types of fencing are you are able to sit down and have a discussion about what you really want in a new fence. Be sure to discuss the project idea with anyone in your home who needs to be included in the decision. From there, please give us a call and either I will come out myself or I'll send one of my hand-trained team members who will be able to discuss your project with you at length, make recommendations, and give you a price quote. If you check out our About Us page, you'll see that we're a Ypsilanti fence company that cares about the work we do for our customers because it has been the word-of-mouth advertising that has kept Veterans Fence in business since my father started this business over 40 years ago. I maintain that tradition of excellence and I can assure you that you'll be given the best level of customer service that is available from any local fence company. Give me a call at 313-381-8530.  You won't' be disappointed.