SOUTH ROCKWOOD FENCE COMPANY
While Best Buy would have you think that it's as common as a cold in December, big-ticket purchases are still a relatively rare thing. This applies even more when you consider the fact that stoves, refrigerators, and other high-dollar appliances are lasting longer than ever due to better construction. Getting a new fence is also one of these bigger purchases which are not all that common and so finding a good South Rockwood fence company that can give you all the information you need to make the best decision is probably the most crucial aspect of getting a high-quality fence that will last for years.
Here are a few tips that will get you headed in the right direction in selecting the best South Rockwood fence company. I've compiled this list from decades of experience in the commercial and residential fence industry. My father started Veterans fence nearly 50 years ago and I worked under him since I was a boy and these years of experience have cause med to learn a thing or two about this. I consign this knowledge to you in the hope that, even if you don't choose to work with our company where your project is concerned, you'll get the very best service from whichever contractor you do commit to.
A good South Rockwood fence company does high-quality work like this.
All Things Really Are Created Equal – while it is true that some uber-rich people will order up a decorative rod-iron fence of a stone wall fence, over 95% of all fences installed these days will be constructed of either the vinyl, weather-resistant wood, or traditional galvanized chain link variety.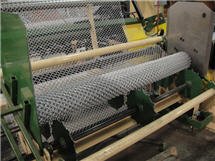 Locally produced chain link fencing.
These materials are, for the most part, produced locally by a small group of companies. This means that all of the South Rockwood fence companies are getting the materials that they'll be building your fence with from the same sources. Pricing, then, is very consistent from one company to another and if you get more than one quote on your job and you see a low-ball quote that sticks out like a sore thumb you have to ask whether or not they are really committing to the same amount of work that the others understood you to be looking to get done, cutting corners that will result in a poor quality fence, or doing something else that is shady like old-fashioned bait-and-switch tactics. If all things are equal (and they usually are in this line of work) why would one South Rockwood fence company be significantly lower in price than another? That's something to watch out for.
Company Track Record – I can't stress enough how important it is to go with a company that has been in business for a number of years and has a proven track record that they can substantiate by providing you with references or testimonials upon request. The fence business attracts a lot of start-ups because they think that they can rent a post-hole digger and buy some materials with their personal credit card and then "be in business". This business is a lot more complicated than that though. There are a lot of factors which must be managed in order to keep multiple installation jobs running on time all at simultaneously. Breakdowns in the process occur and people get upset when extensive deals leave them with holes dug and posts sticking up out of the ground but no completion of the job in sight. Older companies (5+ years in business) will have worked through these common issues and have systems in place to keep things going on-target. Go with a South Rockwood fence company that has a consistent track record and ask for references. Nuff said.
General Professionalism – digging fences is a dirty job. When your job is to dig holes in the ground, there's no way to get around it. That doesn't mean that a company should hire "dirty people". You know what I mean. Unreliable types who declare their "screw the world" attitude by purposefully neglecting their appearance. More often than not the outside is a display of what's going on inside. A good South Rockwood fence company will work hard to maintain a professional outlook and disposition. If the sales rep that is sent out to your place to give you a quote on your fence project is clean and professional in his demeanor then you can bet that the company management takes that seriously and you can more than likely expect to see more of the same from the installation crew. Nobody likes to have jerks on their property…no matter how cheap a job can be done. Saving an additional $100 on a full-yard fencing project is usually not worth it if the people doing the work play offensive music at a loud level, use foul language, or do other things which will offend your neighbors and bring evil stares your way from the general direction of their porch or front windows. Watch for professionalism like a hawk.
These three tidbits of advice may seem simple, but people forget to actively keep an eye out for them. Don't neglect these three basic areas of inquiry and you are sure to pick a good South Rockwood fence company to put in your new fence for you. As I said before, I encourage you to give my company, Veterans Fence, a call at 313-381-8530 and ask us to come out. I take pride in the fact that my team meets or exceeds expectations in all of these areas and I'd like to prove it to you. I hope to see you soon.